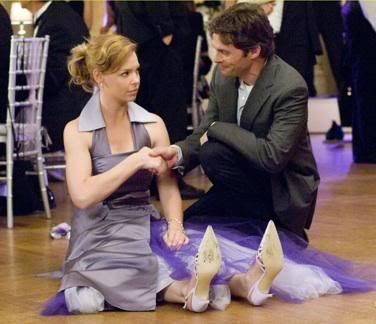 I had been wanting to see this film,
27 Dresses
, since it came out in the theaters in January, but I never got around to watching it - until now!
The Publix Sabor in my neighborhood started carrying rental DVD's through a vending machine, which is a wonderful thing, especially since you can rent a video for 24 hours for $1. It's been my experience that you can't get anything for $1 anymore, even in so-called 99¢ stores. So I'm loving my movie rental vending machine.
About
27 dresses
- it was as cute as I expected, and just as fluffy. Don't watch it expecting gravitas and pathos - you've got
Atonement
for that. But if you're in the mood for a feel-good, breezy, and (Dare I say it? I do dare) chick-flick, then this is the movie for you.
If you want to learn more about
27 Dresses
, read reviews, see pictures, and even watch the trailer, check out its imdb webpage
here
.