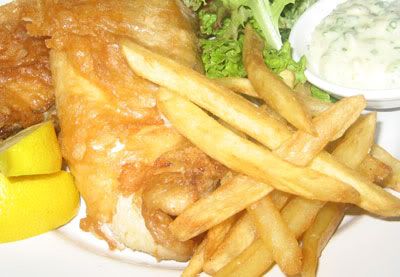 Last night, Ricky and I went to our new favorite restaurant,
The Pub
, with some friends of ours, Joanna and Douglas. It was their first time, our third. The Pub has quickly become our favorite restaurant due to its laid-back atmosphere and great menu. It serves British style cuisine and has an impressive beer list (and for me, who's become a newly minted beer afficiando, this is a good thing!). Ricky had the quintessentially British dish, Fish and Chips, while I ordered the Americanized version, Chicken and Chips. After trying a bite of his Fish and Chips, though, I was very jealous, so jealous in fact that I endeavored to order
that
the next time we go. Which will probably be soon, given how frequently we've been going - just last weekend, we took another friend, Jennie, for her first time, and funnily enough, the same waitress attended us last night, too.
Both times we ordered dessert, though I preferred last night's Jamaican Cheesecake to last week's Brownie Sundae. Last night's cheesecake was out of this world. Joanna and I both agreed that we could easily down another plate of it, no problem. The only problem would be our expanding waistlines!
It was nice to get out and enjoy ourselves with some friends. Of the two of us, I'm definitely more antisocial than Ricky, or at least I think I like thinking I am, but once we're out with friends, I realize how much fun I have in a crowd. I'm nothing if not a complicated woman, I guess. ;-)